Electrical Renovations Eltham
A move in the light direction.
When you think about renovating your home, you're likely to conjure up images of brand-new kitchens and bathrooms. The end result of a home renovation is exciting to think about, but the process behind getting there involves much more than picking out new fixtures and paint colours. 
While you have a lot of decisions ahead of you when you undertake a renovation, one aspect you may not think about is the electricity and wiring. However, this is one of the most important aspects, so ensuring it's done correctly can make a big difference.
If you're located in Melbourne's Northern Suburbs or any of the surrounding areas such as Eltham, Macleod, Yallambie, Rosanna, Viewbank, Plenty, Heidelberg, Greensborough, or Templestowe, we are here to assist you.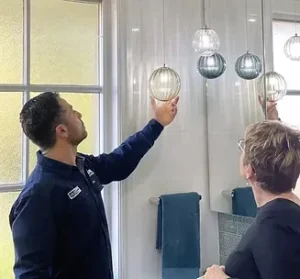 An electrical renovation is crucial to any home renovation. This service aims to minimise the dangers that working with electricity can pose, no matter how big or small your renovation is. As kitchens, bathrooms, and other wet areas are sources of moisture— and knowing that water and electricity do not mix— renovations can be more dangerous that you may expect. Thankfully, licensed electricians such as our team at Espire Electrical Solutions are experienced in dealing with these dangers and mitigating the risks involved to all.
Electrical Renovations By Espire Electrical Services
At Espire Electrical Solutions, we're dedicated to safety and efficiency, always aiming to get your project finished to our high standards and on time. We understand that your project is unique, so we tailor all we do to meet your needs while adhering to Australian building codes and regulations. In taking the time to recognise your needs, preferences, and aesthetic goals, we're on hand to deliver you a renovation that functions just as beautifully as it looks.
Whether you're interested in turning your home into a smart home, replacing and rewiring old electrical work, or making a small change here and there, your electrical renovation is in good hands.
Ready for us to light up your renovation?
Benefits Of An Electrical Renovation
Upgraded electrical services make your home safer

New wiring and installations make your home as user-friendly as possible

Peace of mind knowing your electrical work has been completed safely and correctly
Your Electrical Renovation Questions Answered
Unless you're a licensed electrician, there are elements of home renovations that you can't handle yourself. Installing electrical equipment is dangerous for those without the necessary experience and skills, and doing so yourself may result in additional costs, time, or even serious injury or worse. Additionally, performing DIY electrical work unlicensed is illegal. You should always hire a licensed electrician to perform an electrical renovation for both your safety and the safety of your home.
Each renovation is different, so what an electrical renovation entails in one home may be different to what happens in another. Electricians often install or upgrade LED light fittings, install home automation systems, install or change power points, install or upgrade heating and cooling systems, and more.
Why Espire Electrical Solutions?
We Work On Projects Of Any Size
No matter if your electrical renovation involves one minor change or an entire fit-out, no job is too large or small.
Experienced Electricians
Our knowledge and skills are second to none, thanks to years of experience in the industry.
Here For Your Current Affairs
The last thing you need in your renovation is a DIY electrical mistake. Not only can these be inconvenient and set you back when it comes to time and money, but they can also be highly dangerous. Make sure your electrical renovation is performed by licensed electricians with the knowledge and skills to do the job right, such as our team at Espire Electrical Solutions. With us on your side, your renovation is slated to be wrapped up neatly in no time.
Charged Up And Ready To Go
Having been providing electrical renovations and other electrical services to Melbourne homes and businesses for years, Espire Electrical Solutions is the solution to your renovation needs. Our commitment to high-quality work and customer service set us apart from the crowd as we become as invested in your project as you are! Whether you need new power points installed, a brand-new lighting system, or something in between, give us a call today
CALL US ON 0431 569 629