Electrical Service in Eltham North
In Eltham North, Espire Electrical is your ready electrician for assistance. Our expert electricians have completed a wide range of projects in the area, from tiny to large, and can provide you with complete commercial and domestic electrical services. Your electrical service needs will be met the first time correctly with Espire Electrical. Contact us right away if you are looking for an electrician who is committed to your complete satisfaction.
Why should you choose us?
Are you looking for a "Near me electrician"? Or do you need an emergency electrician in Eltham North?
Then your search is now complete. Working with us makes you rest assured that you are getting the best service possible.
Contact us today if you seek a commercial electrical contractor you can rely on for high-quality work and comprehensive service at a reasonable price.
Our commercial electrical contractors are fully licensed, insured, and trained to handle all of your electrical repair, installation, maintenance, and renovation needs.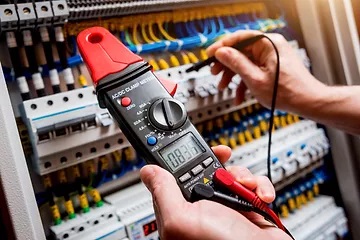 Please don't hesitate to call Espire Electrical and hire an Eltham North electrician. We'll set up a free in-home estimate and be delighted to answer any questions you might have.
Espire Electrical is your go-to electrician in Eltham North for all of your residential electrical needs. All of your home electrical service needs can be met by us because we are trained and skilled.
Wiring installation services are available for various projects, including house remodelling, Led lighting, outlet installations, heavy equipment installations, new appliance installs, generator installations, ceiling Fan, Switchboard upgrades, and more. Our electricians replace obsolete aluminium wire and knob and tube wiring in older residences in Eltham North. During electrical repairs, we also install or replace the electrical wire. Our electrical services include inspections, repairs, wire installation and repair, panel upgrades, entire house rewiring, lights, surge protection, generators, and more.
So without any further a do Contact Us.
We are just a call away.
Electrical Safety Inspections and Checks
An electrical inspection is an essential service you can acquire. An electrical safety assessment is the most excellent approach to ensure that your house or office is safe and secure.
We have a lot of experience in this field. When you contact us to conduct an electrical inspection, you will receive a written report that is complete and accurate and covers every component of the system.
Suppose the electrical inspection reveals any parts of your electrical system that aren't up to code or safe to use. In that case, you'll know what type of electrical repairs is required to upgrade the electrical system's service panel, wiring, or other parts. You'll also discover out whether there's any old aluminium wiring or if any previous repairs were done incorrectly. If your home requires an electrical inspection, give us a call to set up an appointment.
LED Lightening retrofit and remodeling
LED lighting is a vital part of any house or business's safety system. Employees, customers, and all other occupants require enough lighting in various areas across the commercial facility.
Business or home, whatever you own, everyone likes to save their budget. Replacing existing light fixtures with Led retrofit is a fantastic way to improve your commercial buildings or home's energy efficiency.
Many property owners and managers choose to put more money into an LED retrofit upfront. This is a complete replacement of the old light fixtures with LED light fixtures. This uses significantly less energy than simply screwing a bulb into an old light socket.
Furthermore, energy-saving lighting in LEDs has a longer lifespan, ranging from 12 to 15 years, whereas incandescent commercial lighting has a lifespan of only 3-5 years.
It can be challenging to decide whether to do a complete retrofit or add adapters. Espire Electrical can give you the idea to figure out which lighting strategy will help you fulfil your energy-saving goals while staying within your budget.
Our electricians can help you with any electrical project, from a significant renovation to a few energy-efficient lights. The electrical work is usually handled by a commercial electrical contractor in most business remodelling projects. Commercial remodelers, building owners, property managers, and investors all use our electrical contracting services daily. All of our electrical remodelling are done following the law. Our expert electrical contractors go above and above to complete our electrical renovation projects on schedule, safely, and within budget.
Our electricians have the experience and passion for managing the electrical remodelling work for you, whether planning a build-to-suit remodel for a commercial facility or entirely refurbishing a historical building or home in Eltham North.
Espire electricians can assess the requirement for a switchboard upgrade, repair, or installation of a new switchboard if you install new appliances or have renovation work done in your house or office.
All of your electrical switchboard wiring and switchboard upgrades for your house or commercial property can be handled by our team of master electricians. We have been providing electrical switchboard upgrades to homes for many years and can be trusted.
An electrical fire can occur in older-style buildings and households with rewire-able fuses. Electrical safety switches are required in all modern switchboard setups. When an electrical failure occurs, safety switches react by isolating the circuit quickly.
All of the following switchboard work can be done by our Espire electricians.
Electrical Wiring Services
Rather than attempting it yourself or asking a friend for assistance, it is advisable to contact an electrician who can provide you with quick and accurate electrical wiring services. Even years after you thought everything was all right, a simple electrical wiring error can result in a house fire.
Whether it's big or small work, we'll always be ready to help you with electrical wiring. When you need electrical wiring services in Eltham North, call our professional and qualified electricians.
Your electrician's troubleshooting expertise directly impacts their ability to supply you with appropriate electrical repairs. Before an electrician becomes an expert in electrical troubleshooting, they must spend years successfully fixing a wide range of various electrical problems. It's also critical that they invest in the proper electrical testing and diagnostic equipment.
Our electricians have spent years honing their electrical troubleshooting abilities in addition to their extensive schooling and journeyman experience. Our organization also ensures that each electrician is equipped with the necessary diagnostic gear.
Repair issues are the absolute last thing you need to deal with. When you call us with a problem that needs to be fixed, our skilled electricians will be able to diagnose the issue immediately. We'll tell you exactly which alternatives are appropriate for your particular electrical repair project.